A team from Foster Moore – The registry people® is looking forward to participating in Corporate Registers Forum (CRF) conference in Botswana next week.
The conference is being hosted by the Companies and Intellectual Property Authority (CIPA) of Botswana. The CIPA are clients of Foster Moore and we are proud to be working with them on their new on-line companies registry. Foster Moore are a Platinum Sponsor of the 2018 conference.
Foster Moore and its personnel have a long association with the Corporate Registers Forum. We've participated in and supported the CRF at every conference since 2003. The event in Botswana will be an excellent opportunity to see the tremendous registry reform and renewal that is occurring across the African continent. Some of the most modern registries in terms of technology and legal reform can be found in Africa.
As a global leader in business service technology solutions, Foster Moore brings international experience to the provision of business services. Our experience in business, companies, collateral, and trade mark registries incorporates the very best of modern digital service delivery. Our Catalyst™ Commercial Off the Shelf Software powers some of the most modern and innovative business registries across the globe.
Modern business registries are supported by a very active network of 'registry' people. Learning from each other at conferences like the CRF means we're all here to help businesses grow our respective economies easily and quickly. And for that opportunity, we're grateful to the CRF for allowing our continued involvement.
Foster Moore implements registry solutions globally. Our first fully online registry was developed in 1996: since then we've built over 30 different types for over 20 business registries internationally.
Foster Moore has offices in Raleigh, North Carolina's, Toronto, Ontario and Auckland, New Zealand.
We look forward to meeting those of you participating at the CRF conference in Gaborone between the 21 – 25th May 2018.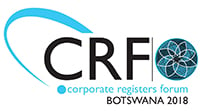 For more information on the CRF see www.corporateregistersforum.org