Verne® – powering registries globally
Verne®, our Commercial Off The Shelf (COTS) software application, is the product of years of iteration and experience within the registry domain. Unlike other COTS products such as CRM solutions or ERP systems, Verne is focused specifically on delivering online registers.
It allows for the use of a core set of services, that support all registry types. Companies, secured transaction, beneficial ownership and occupational licensing registries have all been built on Verne®.
Verne® is incredibly flexible through the use of configuration capability and tools. This allows the deployed registers to be compliant with the legislation or policies of the jurisdiction in which it is used, tailored to your country, state, county or business needs.
Cloud Based and accessible anywhere
Access for both members of the public performing online transactions and registry staff responsible for the management and operation of the register is browser-based and accessible from any device.
Verne® provides members of the public with integrated search, reservation, registration (incorporation) and compliance functions as well as access to online payment facilities.
Registry staff use Verne® to carry out the daily duties required to maintain the register; working from an interactive task list they complete the tasks allocated to them based on their defined responsibilities.
Designed specifically to run registries
Verne® provides registry owners or managers with functionality and tools that represent 'best of breed' registry software. Regardless of its sophistication, each Verne® register implementation incorporates best-practice design and process to efficiently achieve legislative compliance, reduce costs and improve client services.
Verne® is continually evolving and today reflects notable registry-know-how fused with leading-edge technology to deliver a refined and modular architecture. Verne utilises modern software packages, including a document database (such as MongoDB), reliable messaging (Rabbit) and lightweight frameworks (Spring Boot) to deliver a single application that is cloud-ready, multi-tenanted, and always online for our clients.
Secure and compliant
Foster Moore's core business is registry software. The various regulatory and government bodies using Verne® do so in the knowledge that it is secured and tested to the highest standards.
How does Verne measure up?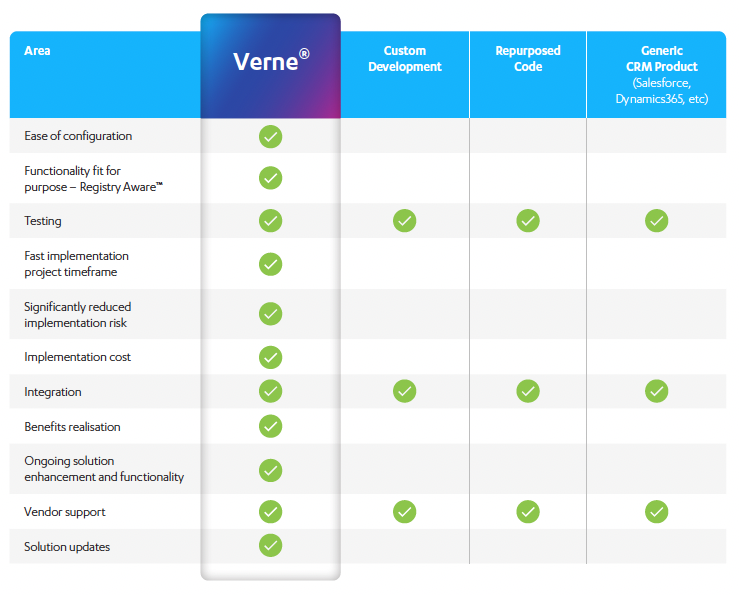 Join Us
We're growing and we're always looking for great talent.
Vacancies
Meet the Team
Introducing the registry people behind the tech.
Our People
Office Locations
Come and see us in Aotearoa-New Zealand, Australia, North Carolina or Canada.
Contact Us